When my little girl was younger, she loved to wear ruffled skirts. Although she's a little older now and no longer wears them, when I asked her what our next crochet project should be for our dolls, she said she wanted her doll to have an adorable skirt with lots of ruffles. So naturally, I had to deliver. This week's free crochet pattern is for an easy crochet ruffle skirt for dolls. It's a beginner-friendly crochet pattern and I've included a video tutorial showing step-by-step instructions to help you have success making your own crochet ruffle skirt for dolls.
Pin This Free Pattern to Save It For Later Save It
*This post may contain affiliate links, which means that I may earn a small commission from qualifying purchases made through these links. All opinions are my own.*
This pattern is Week 22 of the Amigurumi Advent Calendar CAL and is designed to fit my Advent Amy doll, which is a 10-inch doll however, it can fit many of the other free crochet doll patterns that I have available here on my blog. Read more about the CAL at the CAL Homepage.
Missed the previous weeks of the CAL? No problem! You can start any time and there are already a lot of other free crochet doll clothes patterns available – all with step-by-step video tutorials..
And there are more doll garments and accessories to come! Make sure to follow me on social media or join my email list to be notified when more free patterns for crocheted doll outfits, adorable accessories and easy crochet projects become available.
How do you crochet a ruffle skirt for dolls?
This ruffled crochet skirt for dolls is a mini skirt that is designed to be crocheted in one piece to avoid sewing. We create a foundation row which will be the waistband of the skirt and work the skirt from the top to the bottom. The skirt is made with basic crochet stitches like the single crochet stitch and double crochet stitch. We'll create the base of the skirt and the ruffles are added to the skirt as we work. You'll need to know how to work in the back loops only and the front loops only to achieve this but even if you don't know how to do that, there is a video tutorial available that shows you how to do this.
How to Customize This Skirt
As always, I like to share some simple ways to customize your projects:
This skirt looks great in a variety of different colors however, my personal preference is to use bright colors to really help those ruffles pop. To make a faux denim crochet skirt for your doll, try using a blue yarn or even a yarn that mimics the look of jean fabric (like Lion Brand Jeans yarn) – just make sure you can match gauge with it first.


If you'd like to create a skirt that has a ruffled bottom instead of all of the ruffles, omit rows 5 and 9 and only work the last set of ruffles. This will still give an elegant look to your skirt but allows you to skip the added rows and also create a skirt with an entirely different look if you wanted to add extra skirts to your doll's wardrobe.
This cute skirt was designed to be paired with the Ruffled Crochet Doll Shirt however, it can work with any of the crochet doll shirts that have been (and will be) released as part of the crochet along. This outfit together makes me think of fun, summer fashion and going out to dance or party with friends. Ready to get started making your adorable crochet skirts? Keep scrolling for the pattern below and happy crocheting.
Where Can I Get a Printable Copy of this Pattern?
You can purchase an inexpensive ad-free crochet PDF pattern with all three parts of the doll together in one convenient pdf file in my Ravelry and Etsy shop OR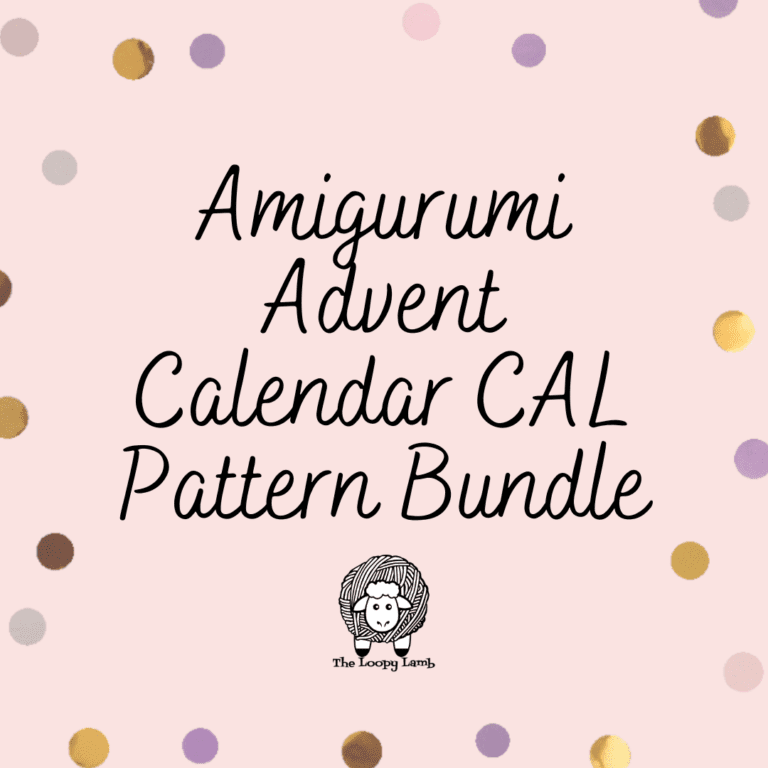 Other Great Free Crochet Patterns to Check Out
Important Note About The Supply List for this Project:
The supply list shown for this pattern shows the materials needed Weeks 19 – 27 of the Amigurumi Advent Calendar Crochet Along. Not all materials will be used this week but you will need them in order to complete the remaining patterns in the CAL.
Disclaimer:
Feel free to sell the item created by this pattern but please provide pattern credit back to me when posting online, and please provide a link to my blog: https://theloopylamb.com. This pattern is for personal use only. Please do not resell, distribute, duplicate, or share this pattern in any printed or digital form, or claim this pattern as your own original design. Please do not use my photos when selling your finished items.
Skill Level:
Terminology:
Supplies:
E / 3.5 mm Crochet Hook (or whatever hook size needed to match gauge)


Brava Worsted Weight Yarn (100% Premium Acrylic, Worsted Weight (4), 218yds/200m, 100g/3.5oz), 1 skein each of:

Colour A: Cream (or preferred skin colour)
Colour B: White
Colour C: Brindle (or preferred hair colour)
Colour D: Mulberry
Colour E: Lady Slipper
Colour F: Denim
Colour G: Black
Colour H: Cotton Candy
Colour I: Dove Heather
Colour J: Freesia
Colour K: Seraphim
Colour L: Rouge
Colour M: Marina
Colour N: Almond
Colour O: Red



14 – 9 mm Buttons in preferred colour(s)


1 – 3/8" Pom Pom Maker or a piece of cardboard


Tapestry Needle / Yarn Needle


Sewing Thread and Needle
Abbreviations:
Special Techniques and Stitches:
Invisible Finish/Join: FO leaving a long tail. Thread the tail onto a tapestry needle. Place the tapestry needle through the top of the 2nd ST from front to back and pull through. Place tip of needle into top of the last ST of the round, under the back loop of the stitch, and pull through to the back of the work. Weave in the end. Learn how to do this with my invisible finish/join tutorial.


Picot Single Crochet (PSC): Insert hook into indicated stitch, yarn over hook and pull through stitch. Yarn over and pull through one loop on the hook three times. Yarn over and pull through both loops on the hook. Learn how to do this with my Picot Single Crochet Tutorial.
Finished Size:
Clothing to fit Advent Amy Doll which is approximately 10.5" tall.
Gauge:
Clothing: 4 sts across x 6 rows = 1" square.
Notes:
Gauge is important for ensuring that all of the parts of your doll fit appropriately. If you don't plan to match gauge, ensure that you maintain a consistent tension throughout your project.


Most of the pieces are worked back and forth in turned rows, unless noted. Read instructions for each piece carefully before starting to crochet.


For pieces worked in continuous rounds, a stitch marker is used to mark the first ST of the round and is moved up in each consecutive round.
You can purchase an inexpensive ad-free PDF version of this pattern with all three parts of the doll together + 1 outfit in one convenient file in my Ravelry and Etsy shops
OR
Buy the Amigurumi Advent Calendar CAL Bundle in my Ravelry or Etsy shops and get printable versions of all of the CAL patterns at once.
Easy Crochet Ruffle Skirt For Dolls Step-by-Step Video Tutorial
Frilly Skirt
Using Colour E, CH 40.

Row 1: SC in the 7th CH from the hook and each CH across. (34 STs & CH-6 loop for buttonhole)
Rows 2 – 4: CH 1 and turn. SC in each ST across. (34)

Row 5: CH 3 (counts as first ST) and turn. Working in FLO, DCINC in same first ST, DC in the next, *3 DC in the next ST, DC in the next; repeat from * 15 times. (68)

Row 6: SL ST twice around post of last ST of previous row and turn. Working in FLO of the unworked loops of the previous row, SC in each ST across. (34)

Rows 7-8: CH1 and turn. SC in each ST across. Join last ST to the first ST with a SL ST.(from here on out referred to as "Join".) (34)
Looking for Your Next Crochet Project? Check Out These Free Patterns:

Row 9: Repeat Row 5.

Row 10: Repeat Row 6. Join.

Rows 11 – 12: CH 1 and turn. SC in each ST across. Join. (34)

Row 13: Repeat Row 5.

Row 14: Repeat Row 6. Join.

Rows 15 – 16: CH 1 and turn. SC in each ST across. Join. (34)
FO and weave in ends. Using sewing needle and thread, sew a button on the skirt, across from the CH-6 loop from Row 1. Use the CH-6 loop to fasten the skirt closed by slipping it over the button once on the doll.
I hope that you enjoyed this easy ruffled crochet skirt for dolls free pattern and tutorial. If you did, make sure to join my newsletter to be updated when new free patterns become available: Join my free newsletter here.
I'd love to see your beautiful finished project! Share your adorable doll sporting their new ruffled crochet doll skirt with me on social media by tagging me @theloopylamb or using #theloopylambCAL in your posts.
Join The Loopy Lamb Crochet Community Facebook Group to connect with other crocheters and share your fabulous projects made with this free crochet doll skirt pattern! Don't forget to follow me on Facebook, Instagram, TikTok and Pinterest so you don't miss a thing.
Facebook Page: www.facebook.com/TheLoopyLamb
Instagram:  www.instagram.com/TheLoopyLamb
YouTube: The Loopy Lamb YouTube Channel
TikTok: https://www.tiktok.com/@theloopylamb
Pinterest: www.pinterest.com/theloopylamb
Newsletter: Sign up for my newsletter!