Today I'm sharing a free crochet doll scarf pattern that is a fun and colourful. It uses the tapestry crochet technique to create a repeating heart image on the scarf and there are no ends to weave in. This pattern includes the tapestry crochet colour and a step-by-step video tutorial to walk you through how to crochet a scarf for your dolls. If you'd liked the colour changes written out for you, that is available in the Amigurumi Advent Calendar CAL Bundle in my Ravelry or Etsy shops.
This pattern is Week 9 of the Amigurumi Advent Calendar CAL. This free crochet doll scarf pattern was designed to fit my Advent Amy amigurumi doll but it can work with almost any toy. You can join the CAL at anytime. Check out the pattern release schedule for the Amigurumi Advent Calendar CAL to know when each part will be released.
Pin This Pattern to Save It For Later Save It
*This post may contain affiliate links, which means that I may earn commissions from qualifying purchases made through these links. All opinions are my own.*
Missed the previous weeks of the CAL? No problem! You can start any time.
How do you make a small scarf for a doll?
This scarf is crocheted from bottom-up, along the long side of the scarf. We're going to be using the tapestry crochet technique to make our scarves, which is how we will get the repeating image of a heart on our scarves.
If you don't like to weave in ends, no fear – this project has no ends to weave in! At the beginning and end of row we'll be leaving our yarn tails hanging so that we can turn them into tassels at the end. As someone that hates to attach tassels to stuff, this is a win-win for me. No weaving in ends and no attaching individual tassels. What's not to love?
How to Read a Tapestry Crochet Chart
This pattern uses a colourwork chart to illustrate the heart images on the doll's scarf. Read the chart from right to left for right-handed crocheters and left to right for my left-handed friends.
Each block in the chart counts as a one single crochet stitch. The colour of each box shows which colour of yarn you should be using for that stitch. Colour changes happen using the last yarn over of the previous stitch.
If you'd prefer to have the colour changes written out for you, the Amigurumi Advent Calendar CAL Bundle PDF includes both the colour chart and the full written version of the pattern and can be found here: Ravelry or Etsy .
Other Things to Know When Crocheting You Doll Scarf
You'll be cutting and reattaching the yarn into the first stitch of each row (for rows 2 – 6), making sure to leave tails on either side to use as tassels. Doing this also makes sure you don't have to weave in any ends when you're done – YAY!
As you crochet along each row, you'll carry the yarn that isn't actively being used behind/inside the stitches you are crocheting with the active colour.
The most important thing to keep in mind (particularly if this is your first time doing a colourwork project like this) is to be patient and take your time.
Where Can I Get a Printable Copy of this Pattern?
You can purchase an inexpensive ad-free crochet PDF pattern with all three parts of the doll together in one convenient pdf file in my Ravelry and Etsy shop OR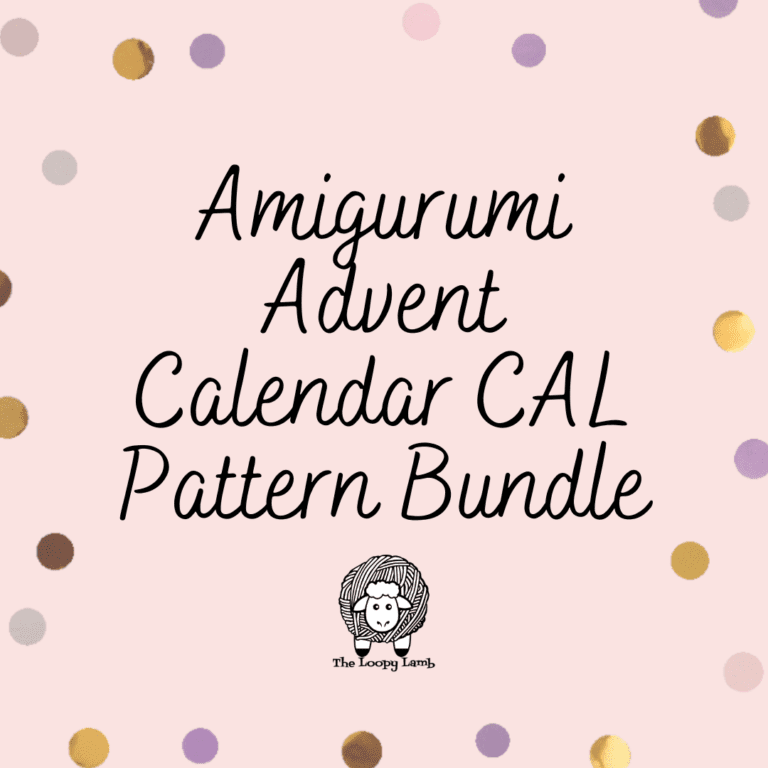 Other Free Crochet Patterns You'll Love
Important Note About The Supply List for this Project:
The supply list shown for this pattern shows the materials needed Weeks 1 – 8 of the Amigurumi Advent Calendar Crochet Along. Not all materials will be used this week. A new/updated material list will be posted starting Week 9.
Disclaimer:
Feel free to sell the item created by this pattern but please provide pattern credit back to me when posting online, and please provide a link to my blog: https://theloopylamb.com. Please do not resell, distribute, duplicate, or share this pattern in any printed or digital form, or claim this pattern as your own original design. Please do not use my photos when selling your finished items.
Skill Level:
Terminology:
Supplies:
Brava Worsted Weight Yarn (100% Premium Acrylic, Worsted Weight (4), 218yds/200m, 100g/3.5oz), 1 skein each of:

Colour A: Cream (or preferred skin colour)
Colour B: White
Colour C: Brindle (or preferred hair colour)
Colour D: Mulberry
Colour E: Lady Slipper
Colour F: Denim
Colour G: Black
Colour H: Cotton Candy
Colour I: Dove Heather



2 – 12 mm Safety Eyes in preferred colour (Mine are from Chateau Bornais Crochet)


9 – 9 mm Buttons in preferred colour(s)


Sewing Thread and Needle


Sewing Pins (optional but helps make the assembly process easier)


Blush and Make-up Brush (optional)


24 boxes that measure at least 2.7" square for the advent calendar. (I got these advent calendar boxes on Amazon)


Hot Glue Gun and Glue Sticks
Abbreviations:
Special Techniques and Stitches:
Invisible Finish/Join: FO leaving a long tail. Thread the tail onto a tapestry needle. Place the tapestry needle through the top of the 2nd ST from front to back and pull through. Place tip of needle into top of the last ST of the round, under the back loop of the stitch, and pull through to the back of the work. Weave in the end. Learn how to do this with my invisible finish/join tutorial.


Picot Single Crochet (PSC): Insert hook into indicated stitch, yarn over hook and pull through stitch. Yarn over and pull through one loop on the hook three times. Yarn over and pull through both loops on the hook. Learn how to do this with my Picot Single Crochet Tutorial.


Finished Size:
Doll is approximately 10.5" tall

Gauge:
Clothing: 4 sts across x 6 rows = 1" square


Doll: Rounds 1 – 4 of the Leg = 1.5" across at widest point.
Notes:
Gauge is important for ensuring that all of the parts of your doll fit appropriately. If you don't plan to match gauge, ensure that you maintain a consistent tension throughout your project.


This pattern is worked in continuous rounds (unless stated otherwise). Do not join at the end of the row, unless indicated. A stitch marker is used to keep track of the beginning of the round.


For a cleaner SCDEC, do your SCDEC under the front loops only of each st rather than under both loops. This is often referred to as an invisible decrease. Learn how to do this invisible decrease tutorial.


In Round 1 of the Body of the doll only, the CH 1 is counted as a st and should be worked into in Round 2 of the body.

For the Scarf: Carry unused colours and crochet over them as you work. Read the colour chart from right to left. Each box counts as a single stitch.


The scarf is worked in rows of single crochet worked in the BLO (back loops only). When reattaching your yarn at the start of a Row, attach your SLST under both loops of the first ST.


When starting each row of the scarf, leave a tail a few inches long of both main colours worked in that row hanging on the edge of your work so you will have fringe on both sides.


Each row of the scarf ends by fastening off both colours, leaving a tail of a few inches to create your fringe (you'll trim it up at the end).


Start Rows 2-6 of the scarf by reattaching the main color yarn to the first ST of the previous Row and carrying the yarn inside your stitches. In rows utilizing only one colour, carry another strand of yarn inside your stitches.
You can purchase an inexpensive ad-free PDF version of this pattern with all three parts of the doll together + 1 outfit in one convenient file in my Ravelry and Etsy shops
OR
Buy the Amigurumi Advent Calendar CAL Bundle in my Ravelry or Etsy shops and get printable versions of all of the CAL patterns at once.
Free Crochet Doll Scarf Pattern: Step-by-Step Video Instructions.
Scarf Pattern
Make sure to take a moment to read the Notes section for special scarf instructions.
Using Colour I, CH 84.
Starting in the 2nd CH from your hook, follow the colour chart below. The first chart shows the full scarf pattern and below it, I have included a zoomed in image of the heart repeat in the scarf for easier mobile viewing. If you're using the zoomed in image, you'll have to repeat the image a total of 10 times.
After working the chart, FO. Tie several strands of the fringe together at a time in an overhand knot to create tassels along the side of your work and secure the ends.
Trim the fringe so it's all the same length. Steam block, if desired.
Week 10 is now available! Check out the pattern for the crochet doll hat!
Check out these other great free patterns that use tapestry crochet
I hope that you enjoyed this free crochet doll scarf pattern. I'd love to see your progress you've made on your dolls! Share your projects with me on social media by tagging me @theloopylamb or using #theloopylambCAL in your posts.
You can also join The Loopy Lamb Crochet Community on Facebook and share your projects there, chat with other participants and see their work as well. Don't forget to follow me on Facebook, Instagram and Pinterest.
Facebook: www.facebook.com/TheLoopyLamb
Instagram:  www.instagram.com/TheLoopyLamb
YouTube: The Loopy Lamb YouTube Channel
Pinterest: www.pinterest.com/theloopylamb
Newsletter: Sign up for my newsletter!