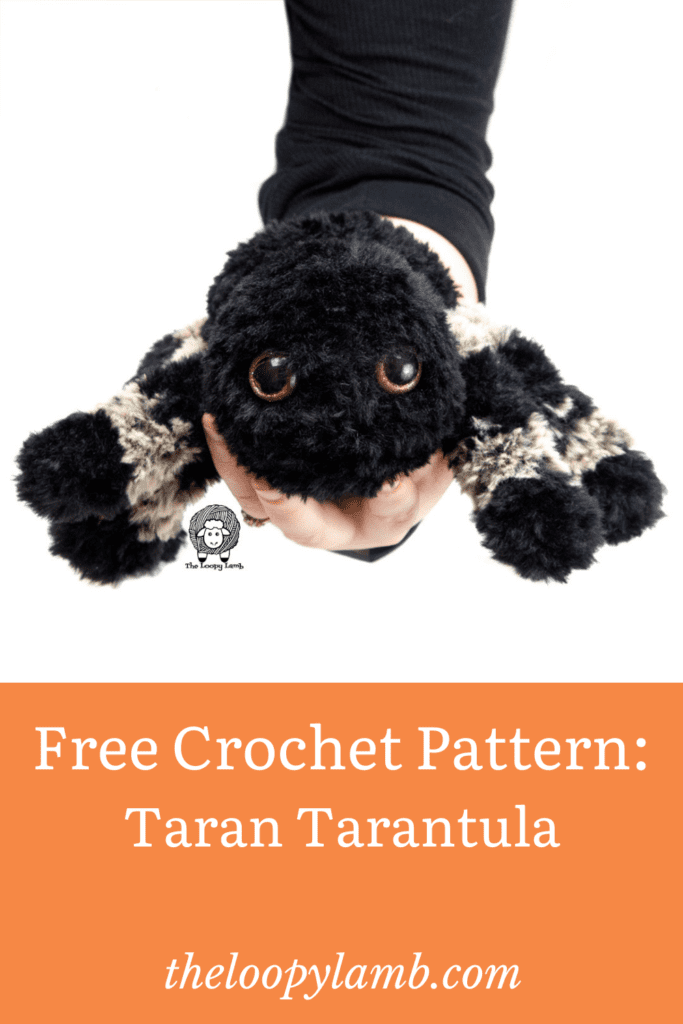 The other evening I was struck by inspiration seeing two skeins of We Crochet's Fable Fur sitting on my shelf. I rushed to get to working on my idea so I could share this crochet tarantula free pattern with you quickly. My kids have been watching a ton of wildlife videos and shows lately and that day, they had been watching a video about tarantulas. When I saw the Falke and Corvo yarns sitting next to eachother, it reminded me of a tarantula I saw on their video and I knew I was going to create one.
Pin it for later Save
Plus, an amigurumi tarantula is perfect for Halloween so inspiration struck at the perfect time! I gathered my tools and started working on my crochet tarantula while my husband watched TV. I worked like a woman posessed. I would not be swayed from creating my little crochet tarantula. A few hours later, and my little Taran the Tarantula was born. I couldn't wait until the next morning when the kids woke up to see their reaction. It was priceless. They knew it was a crochet tarantula right away and both immediately asked if they could have it. Taran passed the kid-approved test with flying colours! Only downside is that now they both want their own tarantulas lol.
Tips for Working with Faux Fur Yarn
If this is your first time working with faux fur yarns or if you're nervous about doing so, go into this project knowing that it is seriously much easier than it looks. All my faux fur patterns use simple stitches and shaping techniques and although you can't really see your stitches, the Fable Fur yarn from We Crochet has a thick strap on the yarn that makes it easy to feel. your stitches. Working with faux fur yarns is incredibly forgiving so even if you don't think your stitch placement is perfect, I bet no one will even notice 😉 I've got a video below here with my top tips for working with faux fur yarns so check this out before you get started with this pattern.
Other Projects Made with Faux Fur Yarn
I am a bit totally in love with working with faux fur yarn for amigurumi. Ever since I got my hands on my first skein of Fable Fur in Kuma and designed my Crochet Koala with it, I haven't been able to stop. Check out some of my other free amigurumi patterns using faux fur yarn:
Skill Level:
Supplies:
If you're planning on buying the materials for this project, please consider doing so through this affiliate link. It helps to support the blog at zero cost to you and allows me to continue to bring you great free crochet patterns like this one.
Abbreviations:
CH = Chain
MC = Magic Circle
ST = Stitch
SL ST = Slip Stitch
SC = Single Crochet
SCDEC = Single Crochet Decrease
SCINC = Single Crochet Increase
FO = Finish Off

Finished size:
8" Long along the body x 13.5" wide across the legs measuring from the end of one foot on the left and one foot on the right.
Gauge:
5 sts x 5 rows = 2 inches
Get an ad-free PDF version of this crochet tarantula pattern HERE on Ravelry or HERE on Etsy.
NOTES:
Gauge is not vital to the project but it may effect the amount of yarn needed for the project.
A 5.5mm crochet hook is recommended for the project but if you find you are unable to feel your stitches, you can adjust your hook until you can more easily feel your stitches to more easily know where to place your stitches. This may however effect your gauge and therefore, the amount of yarn needed.
This pattern is worked in continuous rounds (unless stated otherwise). Do not join at the end of the row, unless indicated. A stitch marker is used to keep track of the beginning of the round.
All pieces made in the Fable Fur are worked and sewn onto the project with the wrong side facing out to show the better-looking side of the fur.
When crocheting the stripes in the legs, carry the unused yarn inside your stitches to be used for the next set of stripes.
Do not stuff the legs of the spider.
Free Crochet Tarantula Pattern
Body & Head

Round 1: Using 5.5mm hook and Fable Fur in Corvo, make a MC and SC 6 into the MC. (6)
Round 2: (SCINC) x 6 (12)
Round 3: (SCINC, SC) x 6 (18)
Round 4: (SCINC, SC 2) x 6 (24)
Round 5: (SC 3, SCINC) x 6 (30)
Rounds 6 – 7: SC around (30)

Round 8: (SC 3, SCDEC) x 6 (24)
Round 9: SC around (24)
Round 10: (SC 2, SCDEC) x 6 (18)
Round 11: SC around (18)
Round 12: (SC, SCDEC) x 6 (12) – Start stuffing and continue adding stuffing every couple of rounds
Round 13: SC around (12)
Round 14: (SCDEC) x 6 (6)
Round 15: (SCINC) x 6 (12)
Round 16: (SC, SCINC) x 6 (18)

Round 17: (SC 2, SCINC) x 6 (24)
Rounds 18 – 19: SC around (24)
Round 20: (SC 2, SCDEC) x 6 (18)
Round 21: SC around (18)
Round 22: (SC, SCDEC) x 6 (12) – Place safety eyes in STs 2 and 7 of Row 22
Round 23: (SCDEC) x 6 (6)
FO leaving a long tail. Weave the tail through the front loops of the last round to cinch the hole closed. If you cannot find the front loops, use the tail to sew the hole closed as neatly as possible. Weave in ends.
Legs (Make 8)
Round 1: Using 5.5mm hook and Fable Fur in Corvo, make a MC and SC 6 into the MC. (6)
Rounds 2 – 3: SC around (6)
Change to Falke
Rounds 4 – 6: SC around (6)

Change to Corvo
Rounds 7 – 9: SC around (6)
Change to Falke
Rounds 10 – 12: SC around (6)
FO leaving a long tail. Use the tail on each leg to sew the leg to either side of the body, placing four legs on either side. Weave in your ends.
Disclaimer:
Feel free to sell the item created by this pattern but please provide pattern credit back to me when posting online, and please provide a link to my blog: https://www.theloopylamb.com. Please do not resell, distribute, duplicate, or share this pattern in any printed or digital form, or claim this pattern as your own original design. Please do not use my photos when selling your finished items.
I'd love to see your finished crochet tarantula! Please share your finished makes by tagging the pattern on Ravelry, sharing it to our Facebook page or Instagram. Don't forget to follow me on Facebook, Instagram and Pinterest
Facebook: www.facebook.com/TheLoopyLamb
Instagram: www.instagram.com/TheLoopyLamb
YouTube: The Loopy Lamb YouTube Channel
Pinterest: www.pinterest.com/theloopylamb
Newsletter: Sign up for my newsletter!