This week we're checking out a new line of yarn from Hobbii Yarns – Hobbii Acacia. This acrylic/cotton blend yarn is one of the latest additions to the Hobbii Yarns line up and I've taken it on a test stitch and will be sharing my experience using Hobbii Acacia with you here. I'll also be sharing a sneak peek of my design using this yarn so keep reading to check it out and learn if Hobbii Acacia is worth adding to your stash.
Pin this for Later Save
Before we get into our yarn review, let's go over the yarn label information so we know what we're talking about here:
Hobbii Acacia Yarn:
Current Number of Colourways Available: 21
Fiber Content: 51% acrylic, 49% cotton
Weight: 3 (DK)
Package Size: 100 gram skein
Yardage: 273 yds (250 meters)
Suggested Hook Size: 4mm (G)
Suggested Needle Size: US 6 (4 mm) needle
Gauge: 22 stitches, 30 rows to 10 cm/4″
Care: Machine wash 40°C (104°F) / Do not tumble dry / Dry flat.
Check out my Hobbii Acacia video review here:
First off, my package arrived surprisingly quickly to have come all the way from Europe. The package was covered in the name Hobbii so there was little doubt that my happy yarn mail had arrived. I tore into the package, excited to see what the yarn would be like. Reaching into the bag, I found a delightfully soft yarn inside. Hobbii Acacia, an acrylic/cotton blend is soft and pleasant to handle. The colours are more muted but absolutely beautiful. Hobbii Acacia comes in both solids and prints. I had mostly solids in my bag and two different prints. The prints didn't go with the solids like I was hoping they would but the solids coordinated beautifully and I got to work on my project straight away.
The strand structure of Hobbii Acacia is plied but the plies are incredbily thin which makes it prone to splitting. After some trial and error, I found that going up to a larger hook size than I normally would have initially gone for with this yarn weight helped to combat the issue. I settled on a lacy shawl design and got to work. I enjoyed working with Hobbii Acacia and after choosing a larger hook, had minimal issues with splitting. I found a 5mm hook to work perfectly and gave me some really beautiful drape with my piece.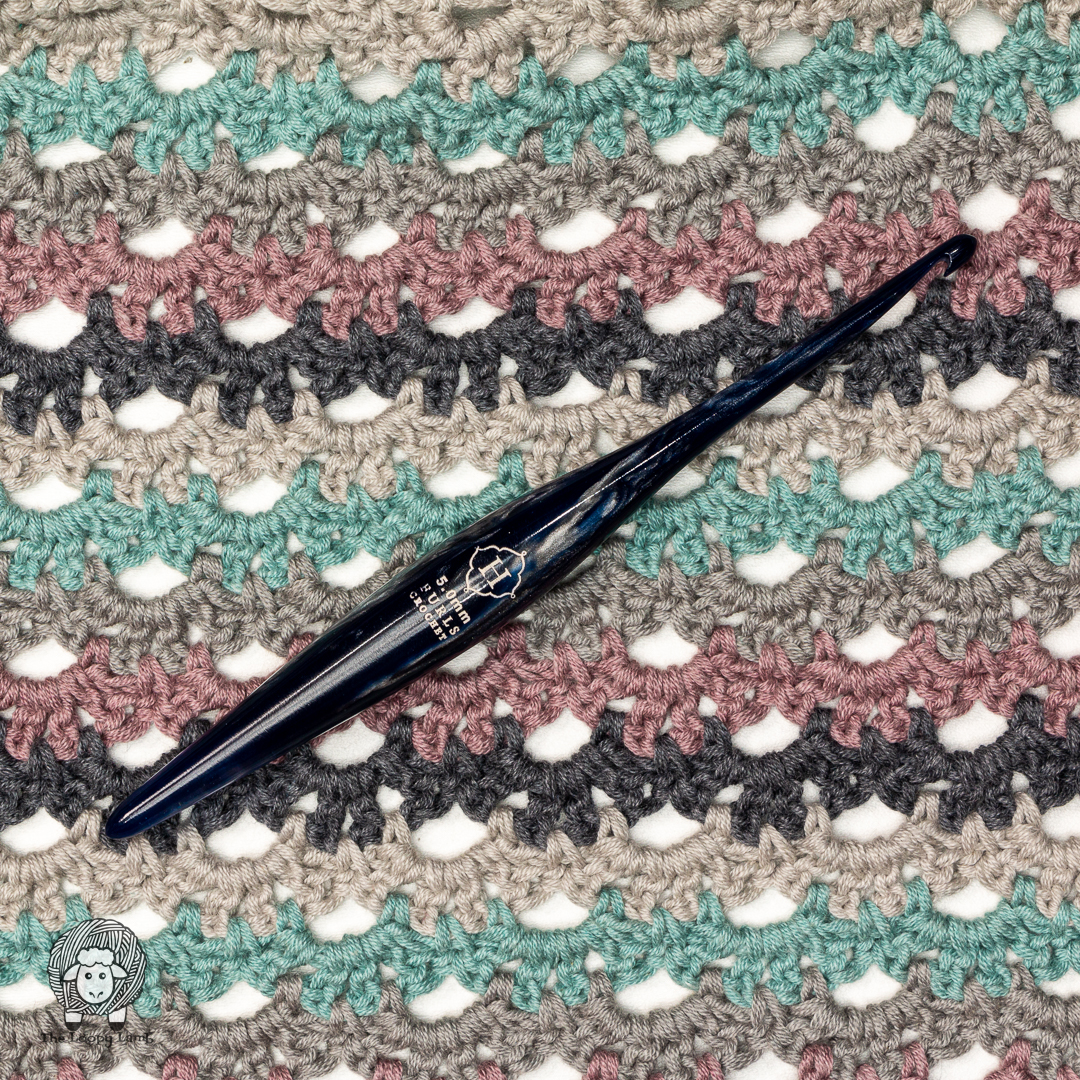 I really enjoyed working with Hobbii Acacia and I'd try this yarn again for a variety of different projects. I'm thinking it would be great for crochet garments, crochet bags and totes, home decor crochet projects and more. I've used Hobbii Yarns for some other crochet designs in the past as well and on all three occassions, found the yarn to be great to work with. The free crochet patterns that I've used Hobbii Yarns to design with are the Juneau Blues Beanie and the Vendbar Tote Bag. I used a wool blend for the Juneau Blues Beanie and a cotton yarn for the Venbar Tote and had great experiences with those yarns as well.

If you're interested in checking out this yarn, you can find the solids HERE and the prints HERE.
Thanks for checking out this yarn review. I hope you found it helpful. Have you tried Hobbii Acacia yarn before? What was your experience? I'd love to hear what you thought as well as what you have made with it.
Don't forget to follow me on Facebook, Instagram and Pinterest to see all my newest content, behind the scenes sneak peeks and be the first to know when I'm hosting giveaways.
Facebook: www.facebook.com/TheLoopyLamb
Instagram:www.instagram.com/TheLoopyLamb
Pinterest: www.pinterest.com/theloopylamb
Subscribe to my YouTube Channel: The Loopy Lamb on YouTube
Newsletter: Sign up for my newsletter!
While you're here, you may like checking out some of my other yarn reviews: