This free crochet doll shoes pattern is an easy pattern that looks great in different colors. Here you'll find detailed instructions on how to make your adorable doll shoes as well as a step-by-step video tutorial.
This simple design requires basic crocheting skills but the entire project is done using single crochet stitches (and some single crochet variations like back loop single crochet) so it is accessible for beginners. These doll shoes are great for boy dolls and girl dolls alike.
This free crochet doll shoes pattern is Week 5 of the Amigurumi Advent Calendar CAL and is designed to fit my Advent Addy and Advent Adam dolls, however, these shoes could fit many of my other amigurumi doll patterns as well.
Pin This Pattern to Save It For Later Save It
*This post may contain affiliate links, which means that I may earn a small commission from qualifying purchases made through these links. All opinions are my own.*
Haven't heard of the Amigurumi Advent Calendar CAL yet? Check out the 2023 Amigurumi Advent Calender Crochet Along home page that contains the pattern release schedule and a rundown of everything you need to know! All the free patterns in the CAL include video tutorials.
For the 2023 Amigurumi Advent Calendar Crochet Along, we're making an amigurumi boy doll named Advent Adam (or Advent Addy which are both 10 inch dolls) and then enough different outfits and accessories to fill a DIY advent calendar.
Where Can I Get a Printable Copy of this Doll Pattern and their clothing?
Grab an ad-free PDF, printable version of the complete doll pattern (all three parts of the doll together) and 1 full outfit pattern in one convenient pdf file in my Ravelry and Etsy shops

OR


Buy the 2023 Amigurumi Advent Calendar CAL Bundle in my Ravelry or Etsy shops and get this pdf download of this and all the CAL patterns in printable bundle files PLUS the following bonus patterns exclusive to the bundle:


Extra hair cap pattern & added embroidery instructions to make Advent Addy (a female doll) with photo tutorials.

Chef's Hat & Apron pattern for the dolls

Swim top pattern (for Advent Addy)

Additional, exclusive bonus patterns with the release of each part of the bundle (there will be a minimum of 8 bonuses this year! (incl. the above listed bonuses))
How to Crochet Doll Shoes:
This pair of crochet doll shoes are a classic shoe design as I wanted to make them look like sneakers. First we will crochet the sole of the shoes using one color and then we will change colors to the main color of the shoe an crochet the body and tops of the shoes.
Then, using a yarn needle and either our first color of yarn (or white if your sole color you have selected is different) to do some easy embroidery to add some shoe laces to the front of the shoes. This little detail really adds a lot fo the shoe without much effort.
Tip: Take a moment to count your stitches to make sure you have the correct number of stitches at the ends of a round before proceeding to the next round.
Other Easy Crochet Projects to Check Out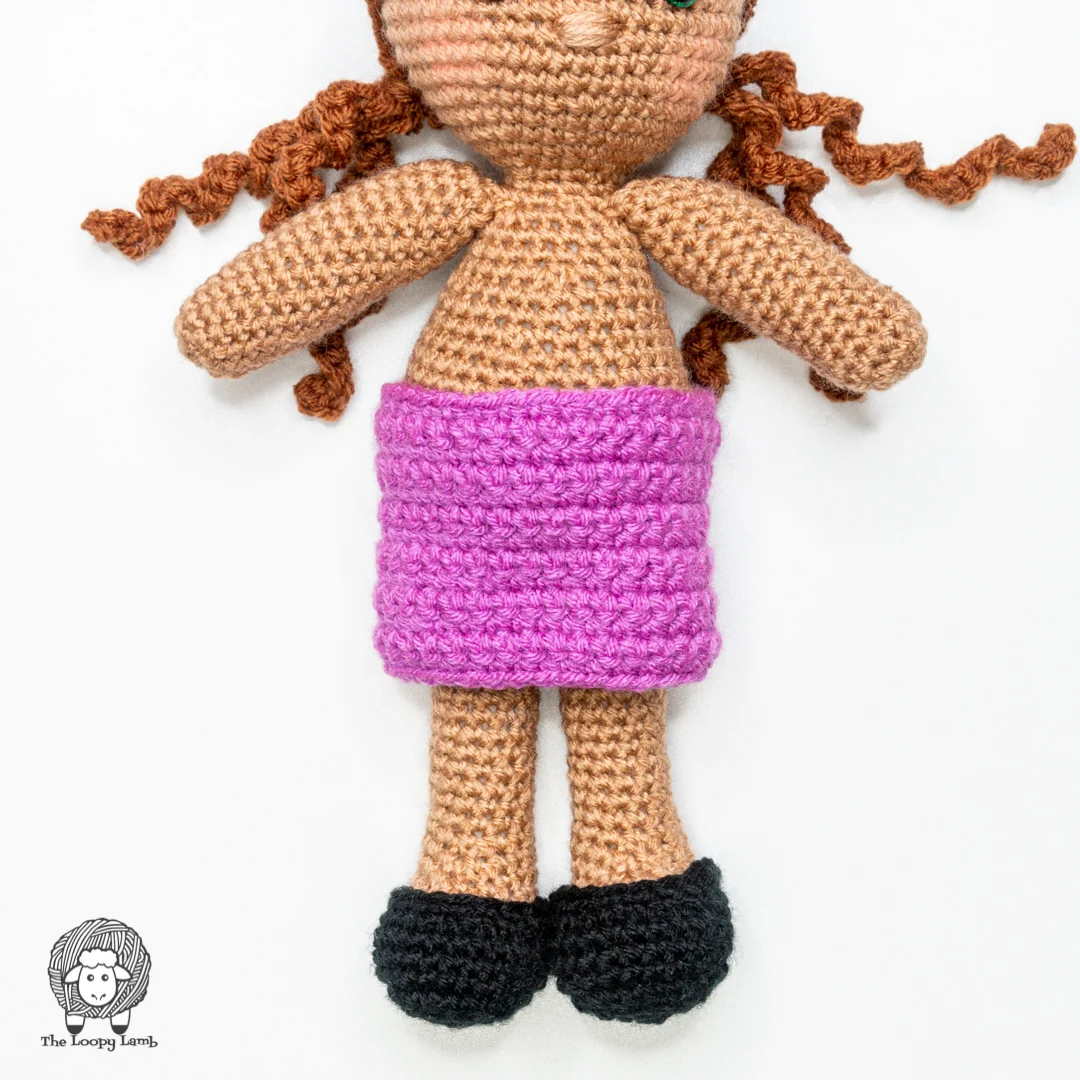 Important Note About The Supply List for this Free Crochet Doll Shoes Pattern:
We will not be utilizing all of the supplies listed in the supplies list this week. We will be using them to complete our crochet doll and the clothing that we will crochet for our doll over the coming weeks. This is not an exhaustive list of all of the supplies we will need. This is everything we will need for Weeks 1 – 11 of the 2023 Amigurumi Advent Calendar Crochet Along.
Disclaimer:
Feel free to sell the item created by this free pattern but please provide pattern credit back to me when posting online, and please provide a link to my blog: https://theloopylamb.com. Please do not resell, distribute, duplicate, or share this pattern in any printed or digital form, or claim this pattern as your own original design. Please do not use my photos when selling your finished items. This pattern is for personal use only.
Skill Level:
Terminology:
Supplies:
E / 3.5 mm Crochet Hook (or whatever hook size needed to match gauge)


WeCrochet Brava Worsted Weight Yarn (100% Premium Acrylic, Worsted Weight (4), 218yds/200m, 100g/3.5oz), 1 skein each of:

Color A: Almond (or preferred skin color)
Color B: White
Color C: Gingerbread for Adam(or preferred hair color)
Color D: Denim
Color E: Black
Color F: Red
Color G: Celestial
Color H: Avocado
Color I: Marina



2 – 12 mm Safety Eyes in preferred color (Mine are from Chateau Bornais Crochet)


6 – 9 mm Buttons in preferred color(s)


Polyester Stuffing (also available at Michaels)


Tapestry Needle / Yarn Needle


Brown Embroidery Thread (or preferred freckle shade)


Sewing Thread and Needle


Sewing Pins (optional but helps make the assembly process easier)


Hot Glue Gun and Glue Sticks
Abbreviations:
BLO = Back Loop Only


CH = Chain


CH SP(s) = Chain Space(s)


DC = Double Crochet


FLO = Front Loop Only


FO = Finish Off


HDC = Half Double Crochet


HDCDEC = Half Double Crochet Decrease


PM = Place Marker/Stitch Marker


RS = Right Side


SC = Single Crochet


SCDEC = Single Crochet Decrease


SCINC = Single Crochet Increase / 2 SC STs in the same ST


SK = Skip


SL ST = Slip Stitch


SP(s) = Space(s)


ST(s) = Stitch(es)


TR = Treble/Triple Crochet


WS = Wrong Side


YO = Yarn Over
Special Stitches and Techniques:
Invisible Finish / Join: FO leaving a long tail. Thread the tail onto a tapestry needle. Skip a stitch and place the tapestry needle through the top of the next stitch from front to back and pull through. Place tip of needle into top of the last ST worked under the back loop of the stitch and pull through to the back of the work. Weave in the end. Learn how to do this with my invisible finish/join tutorial.


Single Crochet (SC) Join: With a slip knot already on the hook, insert hook into the designated stitch. YO and pull up a loop. YO and pull through both loops on the hook.


Finished Size:
Doll is approximately 10.5" tall



Gauge:
Clothing: 4 sts across x 6 rows = 1" square

Notes:
These shoes are made to fit my Advent Adam Doll. Gauge is important for ensuring that all of the parts of your doll fit appropriately. If you don't plan to match gauge, ensure that you maintain a consistent tension throughout each project. Using the same yarn line and hook throughout each project can also assist with minimizing gauge/tension changes.


For a cleaner SCDEC on pieces worked in continuous rounds, do your SCDEC under the front loops only of each ST rather than under both loops. This is often referred to as an invisible decrease. Check out my invisible decrease tutorial on to see it done.


For pieces worked in turned rows, use a normal SCDEC stitch instead of the invisible decrease.


Color changes are done using the last YO of the previous stitch (except where otherwise indicated).


You can purchase an inexpensive ad-free PDF version of this pattern with all three parts of the doll together + 1 outfit in one convenient file in my Ravelry and Etsy shops
OR
Buy the 2023 Amigurumi Advent Calendar CAL Bundle in my Ravelry or Etsy shops and get updates in your Ravelry library or Email (for Etsy buyers) when new parts become available.
Easy Free Crochet Doll Shoes Video Tutorial
Sneakers (Make Two)


Round 1: Using Colour B, make a MC and SC 6 into the MC. (6)

Round 2: (SCINC) x 6. (12)

Round 3: (SC, SCINC) x 6. (18)

Round 4: SC, SCINC, (SC 2, SCINC) x 5, SC. (24)

Gauge Check: Piece should measure 1.5" across at widest point.
Change to Colour F

Round 5: In BLO, SL ST around. (24)

Round 6: In BLO, SC around. (24)
Rounds 7 – 9: SC around. (24)
Round 10: SC 9, (SCDEC) x 6, SC 3. (18)

Rounds 11 – 12: SC around. (18)

Round 13: SC 2. Leave the remaining STs unworked. (2)
FO using invisible finish (see special stitches & techniques) and weave in ends.

Use a 10" length of yarn to embroider three horizontal lines on the front of the shoes as laces. Tip: use the lines created by the stitches as a guide to keeping stitches straight.
There is another free crochet pattern this week as part of the CAL. When you're done making your shoes, head on over to check out the Striped Crochet Doll Shirt pattern and tutorial.
Stay tuned for the next pattern in the 2023 Amigurumi Advent Calendar CAL on March 3rd.
I'd love to see your crochet creations! Share your amazing dolls wearing their adorable amigurumi doll shoes with me on social media by tagging me @theloopylamb or using #theloopylamb in your posts.
Join The Loopy Lamb Crochet Community Facebook Group to connect with other crafty friends and share your fabulous projects made with this free crochet doll shoes pattern! Don't forget to follow me on Facebook, Instagram, TikTok and Pinterest so you don't miss a thing. 
Facebook Page: www.facebook.com/TheLoopyLamb
Instagram:  www.instagram.com/TheLoopyLamb
YouTube: The Loopy Lamb YouTube Channel
TikTok: www.tiktok.com/@theloopylamb
Pinterest: www.pinterest.com/theloopylamb
Newsletter: Sign up for my newsletter!