When the fall and early winter months arrive it's time to bust out the crochet ear warmers to keep our ears toasty in the cold weather. My free crochet ear warmer pattern is a quick project that is available in 3 different sizes. This ear warmer crochet pattern uses only basic crochet stitches and is a great pattern for beginners because this written pattern doesn't require you to match gauge.
Pin it for later Save
*This post may contain affiliate links, which means that I may earn a small commission from qualifying purchases made through these links at no additional cost to you. All opinions are my own.*
When I was designing this free crochet headband pattern, I wanted a simple crochet pattern that would be a quick make that would also be a great gift. I wanted a bit of texture to give it some interest and decided to pick a little shell stitch and I'm so happy I did.
The first finished headband was done in an hour and I had 3 more in different colors by the end of the first day. Plus, they look super cute with messy buns and the little twist I added to the ear warmer makes it look flattering on everyone.
Hate ads? Grab a ad-free printable PDF file of this free crochet ear warmer pattern can be purchased on Ravelry.
Disclaimer:
Feel free to sell the finished item created with this free crochet pattern but please provide pattern credit back to me when posting online, and please provide a link to my blog: https://theloopylamb.com. Please do not resell, distribute, duplicate, or share this pattern in any printed or digital form, or claim this pattern as your own patterns or design. Please do not use my photos when selling your finished items. This pattern is for personal use only.
Skill Level:
Terminology:
Supplies: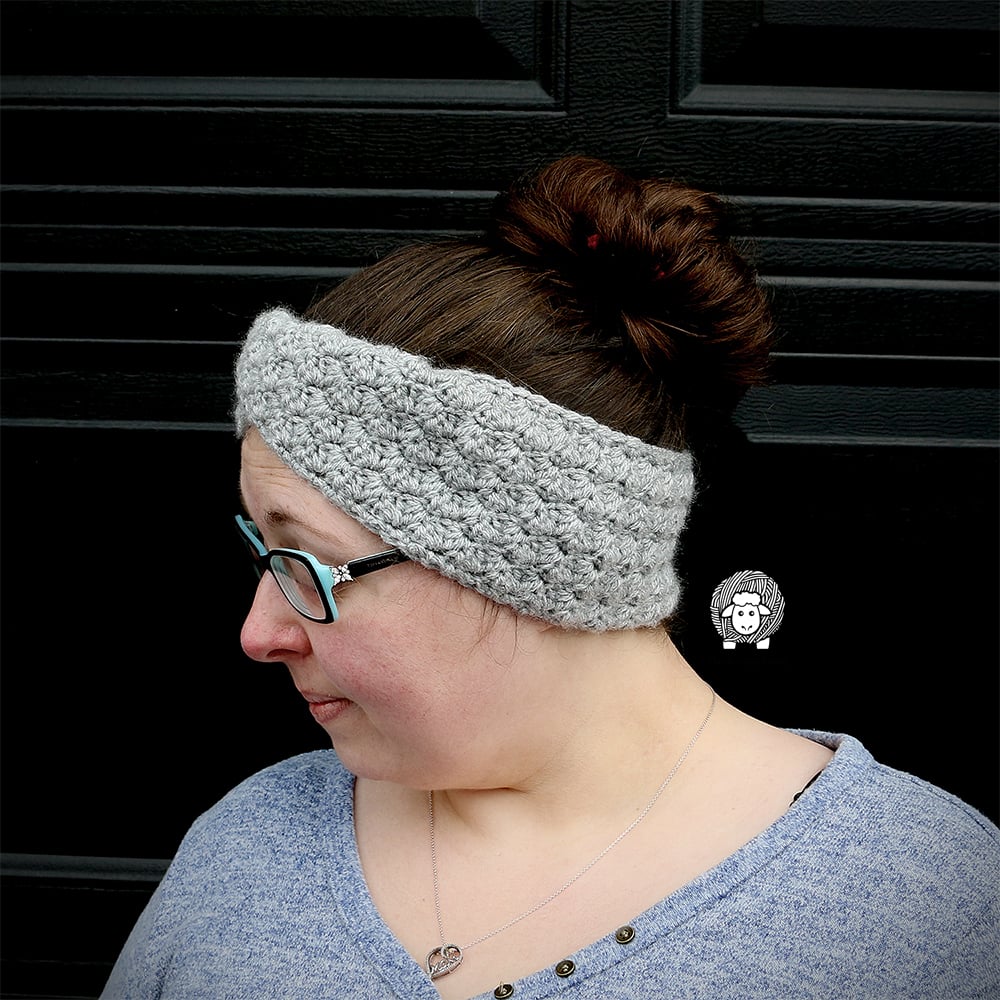 Abbreviations:
Sizes:
Child (6 – 10 years): 4" tall x 18" around (4.5" tall x 18" around with optional edging)


Teen/Adult Small: 4" x 19" around (4.5" tall x 19" around with optional edging)


Adult Size: 4" x 20" around (4.5" tall x 20" around with optional edging)

Gauge:
16 sts across x 10 rows = 4" square in pattern stitch

NOTES:
Gauge is not vital for this project however, keep in mind that not matching gauge may result a change in how tall your ear warmer is and the amount of yarn used.


You may substitute another yarn weight and hook size for the suggested materials in this project however, please note that any substitutions may affect how much yarn is used and the size of your finished project.


The finished size of your ear warmer will be smaller than the head circumference. This is to account for the stretch in the fabric. You can adjust the size of the ear warmer by adding or subtracting rows to get your preferred fit.


This project is worked in turned rows.


Loosely do your CH 1 turning chains. If you crochet them too tightly, the fabric will be too tight along the edges.


When putting on the ear warmer, place the twist at the front. If you find the twist cumbersome to put on, you can use your needle and some yarn to add a stitch or two in the place where the ear warmer crosses over itself to keep the twist in the same place.
Want to print this pattern out? Grab a printable, ad-free PDF version of this free pattern in my Ravelry shop.

Free Crochet Ear Warmer Pattern:
CH 17.
Row 1 (RS): SC in 2nd CH from the hook and each ST across. CH 1 and turn. (16)
Row 2 (WS): *(SC, HDC, DC) in the first ST. SK 2 STs, repeat from * until 3 STs remain, SC in the last ST. CH 1 and turn. (16)
Repeat Row 2 until the piece measures approximately 18" (child size), 19" (teen/adult small), or 20" (adult) long.
Other Great Free Crochet Patterns You'll Love
When the piece reaches the desired length, twist one end once and place the short sides together. Holding the short sides together and the WS facing you, SL ST the ends together. You can choose to FO here and weave in your ends or continue on to the option edging.
Optional Edging: Turn the project so the RS of the fabric is facing you and the seam is on the inside, SC around the outside edges of the piece, working 1 SC ST into the end of every row. Join last ST to first ST with a SL ST. FO and weave in your ends.

Check out the Polar Puff Messy Bun Hat free crochet pattern while you're here too!
I'd love to see your crochet creations made with my free crochet ear warmer pattern! Share your ear warmers with me on social media by tagging me @theloopylamb or using #theloopylamb in your posts.
Join The Loopy Lamb Crochet Community Facebook Group to connect with other crafty friends and share your fabulous projects made with this free crochet ear warmer pattern!
Don't forget to follow me on Facebook, Instagram, TikTok and Pinterest so you always know when crochet product reviews, crochet tutorials, giveaways and new free crochet patterns are posted here on the blog. Happy Crocheting friends!
Facebook Page: www.facebook.com/TheLoopyLamb
Instagram: www.instagram.com/TheLoopyLamb
YouTube: The Loopy Lamb YouTube Channel
TikTok: www.tiktok.com/@theloopylamb
Pinterest: www.pinterest.com/theloopylamb
Newsletter: Sign up for my newsletter!