I recently fell in love with the new Netflix series called Wednesday. Directed by Tim Burton, the show focuses on Wednesday Addams and her investigations at Nevermore Academy. While At Nevermore, Wednesday reluctantly becomes friends with Enid Sinclair who eventually makes and gifts Wednesday a crochet snood.
I thought it was so cute that I set out to make my own and (of course), share the free crochet snood pattern with you for Enid's Snood.
The Enid's Snood pattern is a beginner-friendly crochet pattern and works up quickly. I have include notes for how to adjust the length of this pattern to your preferred length.
I've also included notes on how to give this snood a new look by turning Enid's Snood into Wednesday's Snood instead. A step-by-step video tutorial is available for this pattern as well.
*This post may contain affiliate links, which means that I may earn a small commission from qualifying purchases made through these links. All opinions are my own.*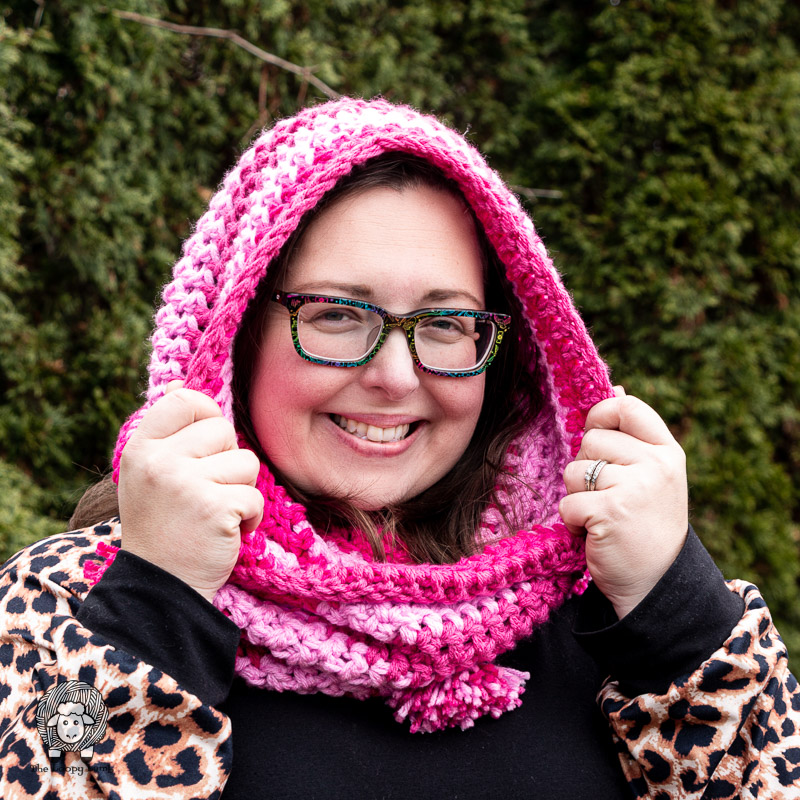 Grab a printable, ad-free PDF version of this pattern in my Ravelry and Etsy shops .
When I set out to make Enid's Snood, I had the hardest time trying to get a good look at the snoods worn by the characters in the show. The scene in the episode Quid Pro Woe, where Enid gifts Wednesday the snood in their dorm room is so short that the snoods just didn't get much screen time. But I could tell right away that it was crocheted.
I got lucky when the actress that plays Enid Sinclair, Emma Myers in the show posted a photo on Instagram of her and Wednesday actress, Jenna Ortega sporting their crochet snoods. This was the first time that I was able to get a really decent look at the snood and I had enough to get started.
What Kind Of Yarn Can I Use to Make Enid's Snood?
The snood that Enid wears in the show is made with a bulky weight. yarn but honestly, I didn't have any of that on-hand and I didn't want to run out and get new yarn. I used three different shades of pink worsted weight yarn for this snood and held two strands of each colour together to make a bulky-weight yarn.
This actually makes the snood pretty cost effective since the yarn I used normally would cost me about $15 for all three. If you don't want to do that, you can use any yarn of your preference, be that bulky weight or super bulky. It's really easy to customize.
Other Free Crochet Patterns You'll Love
Disclaimer:
Feel free to sell the finished product created by this free crochet pattern but please provide pattern credit back to me when posting online, and please provide a link to my blog: https://theloopylamb.com. This pattern is for personal use only. Please do not resell, distribute, duplicate, or share this pattern in any printed or digital form, or claim this pattern as your own original design. Please do not use my photos when selling your finished items.
Pin This Free Pattern to Save It For Later Save It
Add it to your Ravelry Queue
Skill Level:

Terminology:
Supplies:
Abbreviations:

Finished Size:
Approx. 11.5" tall x 60" around
Gauge:
Approx. 7 sts x 5 rows = 4"

Notes:
Gauge is not vital to the project but it may affect the amount of yarn needed and the size of your project. If not matching gauge, make your starting chain at least 60″ long.


This pattern is worked in joined rounds (unless stated otherwise). Do not turn at the end of the round.


If you prefer not to work two strands together, a bulky or super bulky weight yarn of your preference can be substituted.


This project is worked with the yarn held double (meaning two strands of the same colour are held together and worked as if it is one strand). Pull from both sides of the skein or make a second yarn ball/cake of each colour before starting.


A stitch marker can be used to keep track of the first and/or last stitch of every round to avoid confusion with the slip stitch join (optional).


CH 3 at the beginning of every round counts as the first stitch of the round.


Make the Wednesday version of this snood by using black yarn instead of three shades of pink. Pair white yarn with the black to make the tassels for Wednesday's snood.


To adjust the length of this pattern, create a chain to your desired length then follow given instructions.
Grab a printable, ad-free PDF version of this pattern in my Ravelry and Etsy shops.
Here's a Video You May Find Helpful Before Starting This Pattern
Follow Along With the Enid's Snood Step-By-Step Video Tutorial
Enid's Snood – Wednesday Inspired Crochet Snood Free Pattern
Using two strands of Colour A together, CH 104 or FDDC 104.
Taking care not to twist the chain, join last CH to first CH with a SL ST to form a ring. If using FDDC, join last ST to first ST with SL ST and proceed to instructions for Round 2.

Round 1: CH 3, SK first CH, DC in each remaining CH around. Join last ST to first ST with a SL ST (from here on out referred to as "Join"). (104)

Change to Colour B (held double)

Round 2: CH 3, SK first ST, DC in each ST around. Join.

Change to Colour C (held double)

Rounds 3 – 4: CH 3, SK first ST, DC in each ST around. Join.

Change to Colour B (held double)

Rounds 5 – 6: CH 3, SK first ST, DC in each ST around. Join.

Change to Colour C (held double)

Rounds 7 – 9: CH 3, SK first ST, DC in each ST around. Join.

Change to Colour A (held double)

Rounds 10 – 11: CH 3, SK first ST, DC in each ST around. Join.

Change to Colour C (held double)

Rounds 12 – 13: CH 3, SK first ST, DC in each ST around. Join.

Change to Colour B (held double)

Round 14: CH 3, SK first ST, DC in each ST around. Join.

Change to Colour A (held double)

Round 15: CH 3, SK first ST, DC in each ST around. Join.

FO and weave in ends.
Tassels (Make 3 – 6, depending on preference)
Holding two strands of different coloured yarn together, wrap the tassel maker 13 times. Cut yarn.


Cut two strands of yarn in the same colours used to wrap the tassel maker to approx. 8 – 10" long. Wrap this yarn around the center of the tassel and tie a tight knot. Feed the yarn ends through the tassel frame and flip the frame over. Tie another knot on this side of the frame.


Holding on to the center of your tassel, use your scissors to cut along the groove of the frame each end of the frame to free the yarn from tassel maker.


Grab the yarn tails from the knots you tied and hang the bundle of yarn so all the yarn hangs down and smooth it out with your hand.


Cut two pieces of matching yarn approximately 16" long to create the head of your tassel. Holding the yarn double, make a loop in your yarn approximately 2" from the end and hold the twist in your yarn up against the tassel with the tail of your yarn pointing up.


With your free hand, wrap the rest of the yarn piece clockwise around the tassel taking care not to cover your loop with your wrapping. Wrap the yarn as many times as you'd like while keeping enough tail to finish off.


When you're done wrapping, feed the tail of your yarn, through the loop you created. Pull on both your yarn tails firmly until the loop disappears. Cut both tails.


Trim the end of the tassel even with scissors.


Use the tails that are at the top of your tassel to secure the tassels to your snood.

Need help learning how to put on your snood? Check out this reel on Instagram, TikTok or YouTube to see it being put on.
If you would like a crochet snood pattern that uses a single strand of worsted weight yarn, my friend Rhondda at Oombawka Crochet has published her Full of Woe Infinity Scarf Pattern.
If you're looking to get a snood made for you, check out the AnnesMagicCrochet Etsy shop. She is the talented maker that crocheted the snood seen in the show Wednesday and is selling finished snoods.
If you enjoyed this free crochet pattern, make sure you join my free newsletter to be kept in the loop when new free patterns, tutorials and giveaways become available.
I'd love to see your crochet creations! Share your finished snoods with me made with the Enid's Snood Wednesday-Inspired Crochet Snood Free Pattern on social media by tagging me @theloopylamb or using #theloopylamb in your posts.
Join The Loopy Lamb Crochet Community Facebook Group to connect with other crafty friends and share your fabulous projects made with this free crochet dish towel pattern! Don't forget to follow me on Facebook, Instagram, TikTok and Pinterest so you don't miss a thing.
Facebook Page: www.facebook.com/TheLoopyLamb
Instagram: www.instagram.com/TheLoopyLamb
YouTube: The Loopy Lamb YouTube Channel
TikTok: www.tiktok.com/@theloopylamb
Pinterest: www.pinterest.com/theloopylamb
Newsletter: Sign up for my newsletter!