Although it seemed like winter may never end this year we can finally say that spring has arrived! YAY! Time to get started on making yourself a beautiful spring shawl. Here I've gathered some of my favourite crochet spring shawls and wraps from the internet to share with you.
Pin it for later Save
Seamróg Shawl
Isn't this shawl seriously gorgeous?! I love the colours! You can check out this new design from Annie Design Crochet HERE.
Summer Breeze Shawl
Although this shawl is worked up using a worsted weight yarn, it's open work pattern keeps it feeling light and breezy. Find it HERE
Spring Me Forward Triangle Scarf
Got a couple of Lion Brand Mandala cakes laying around? Give this beautiful scarf ago. I know it technically isn't a shawl but it could be easily made larger to be a shawl. Check out the free pattern HERE at Nana's Crafty Home.
Lavender Delight Shawl
This spring shawl uses a self-striping yarn cake and works up in a jiff. Plus it has those chunky tassels that I love. Check it out on Yarnhild's website HERE.
Pineapple Peacock Shawl
This spring shawl has been on my to-make list for a while. Some of the projects on Ravelry for this shawl made with Lion Brand Mandalas or Caron Cakes are amazing. This would be a great shawl to dress up an outfit for date night. Check it out HERE.
Spring Breeze Shawlette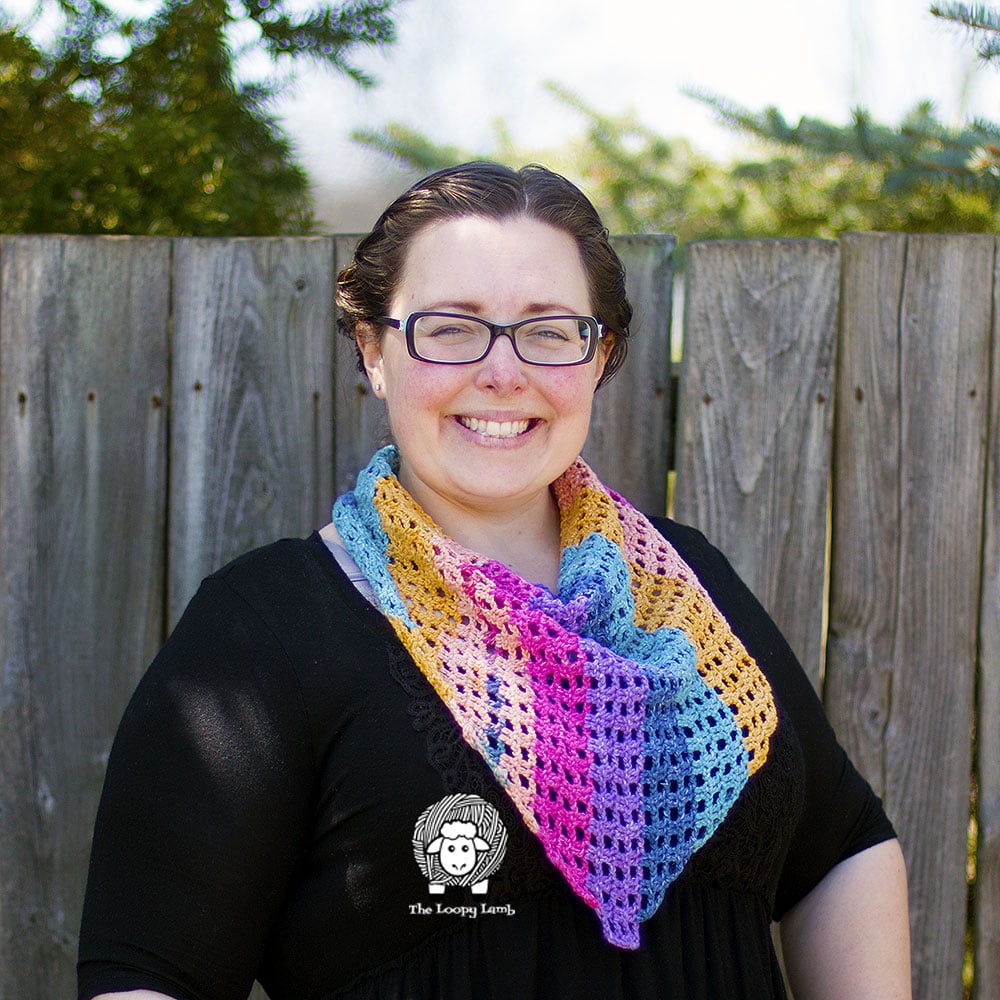 The Spring Breeze Shawlette is a lacy, colorful shawl that can brighten up your spring wardrobe. Even if you chose to make it in a single color, this shawlette is sure to look fabulous. Check out the Spring Breeze Shawlette here.
Marina Wrap
Isn't this wrap stunning? This wrap uses only one ball of Red Heart's It's a Wrap yarn. Check out the free pattern HERE.
South Hampton Triangle Shawl
This easy-level triangle shawl has a simple row repeat and is easy to customize. Made with a cotton/silk blend yarn and designed to eliminate fabric that bunches up around the neck, this shawl is perfect for warmer weather. Check out the South Hampton Shawl here.
Crochet Diamond Blanket Scarf Wrap
This wrap from YarnHookNeedles is really versatile. You can make it to wear during cool spring evenings but it's breezy enough for warmer summer wearing as well. Check it out HERE.
Thanks for reading! Follow The Loopy Lamb on Facebook and Instagram! Sign up for my Newsletter to be kept in the loop and never miss a thing.